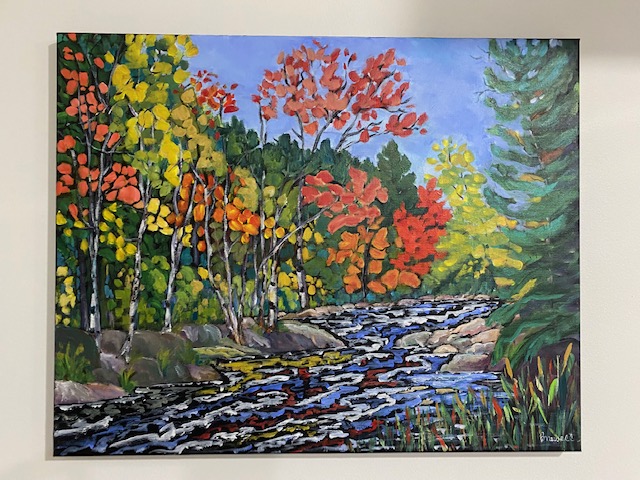 ARTISTIC CREATIONS 
As an artist, you need a muse. I have been spending more time this year on expanding colour vibrancy and taking classes from artists who inspire.  I am currently working on impressionist flowers but also like to paint trees and nature. I will be posting more of my work here on my website very soon and some will be on display in several locations in Toronto. I will announce this when all are ready for viewing and purchase.
This year, I had the privilege of attending the esteemed Muskoka Chautauqua Art Festival in northern Ontario. I am delighted to announce that DivineYourWay was prominently featured in the Village Hall Bookstore during this year's event. In addition, I contributed two works of art to enhance the Muskoka Chautauqua Playing Card deck. Get your copy of these beautiful decks here.
Furthermore, I am proud to serve as a member of two significant committees within this esteemed organization, where I provide both artistic and visionary input. Muskoka Chautauqua has been a steadfast supporter of the arts in all their diverse forms for over two decades.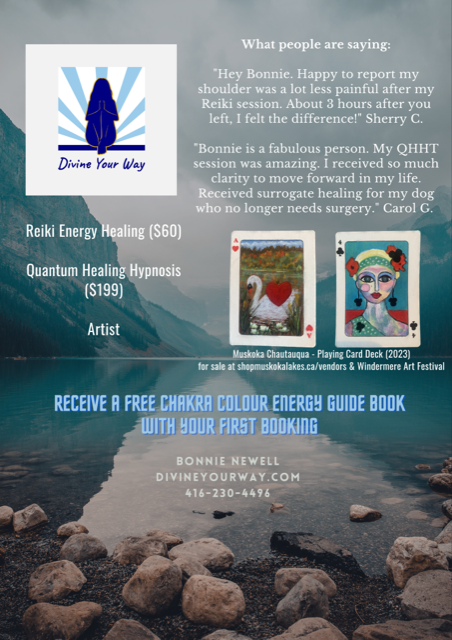 WORKSHOPS
I am very excited to be collaborating and also developing workshops for all ages. This is something I hope to offer in the coming Fall season. Workshops will be available in various formats and locations. 
My goal is to offer art workshops and courses for certification in Reiki Levels 1, 2 & 3(Master).
Future prospects include interactive podcasts in my "Open Mind & Open Light" series that will on occasion include guest speakers to discuss the realm of self discovery. 
I would be thrilled to discuss any ideas you wish to see as offerings. Please contact me to discuss at your convenience.